The Santa Clara River Watershed, named for the largest river in the system, drains an extensive and biologically rich region at the junction of five of California's ten identified bioregions and contains a particularly strong representation of the biodiversity in the South and Central Coast bioregions.
Critically Endangered River
Although the Santa Clara River contains extensive natural areas, it was identified as a critically endangered river by American Rivers in 2005 because of urban development and other threats in the region. Invasion by giant reed (Arundo donax) is also one of the most pressing conservation issues in the Watershed.
Size & Drainage
The area of the Watershed is approximately 1,600 square miles. The Santa Clara River is the largest river in the Watershed. Its headwaters are located in the San Gabriel Mountains, and it runs 84 miles to Ventura Harbor, where it drains to the Pacific Ocean. It is the second largest river in California.
Geographic Area
The Santa Clara River Watershed is located in both Ventura and Los Angeles Counties. The northern border is defined by the Santa Ynez Mountains, Sespe Mountains, San Cayetano Mountains, and Tehachapi Mountains. The eastern border is flanked by the San Gabriel Mountains. The lower Santa Susana Mountains define the southern border.
Tributaries & Reservoirs
Piru Creek, Castaic Creek, and Sespe Creek are the primary tributaries of the Santa Clara River. Pyramid Lake, Lake Piru, Castaic Lake, and Bouquet Reservoir are the major waterbodies located in the Watershed.
Flora and Fauna
The Santa Clara River Watershed spans five of California's ten ecoregions and is home to a vast array of plant and animal species, several of which are federally listed as endangered or of concern. Explore the resources below to discover who calls the Santa Clara River Watershed home, from beautiful wildflowers and busy pollinators, to native mammals and iridescent insects.
Native Plant Trail at the Sespe Cienega
Bush Mallow
(Malacothamnus fasciculatus)
Bush mallow flowers bloom during the spring and summertime and are arranged in an elongated cluster. A shrub can have thousands of pale pink flowers with petals around  an inch long.
Greenbark Ceanothus
(Ceanothus spinosus)
Also known as "Redheart". This plant is mostly seen only in the coastal regions of Southern California. It is commonly used in bird, butterfly, and bee gardens. The shrub blooms in white to pale blue flower clusters.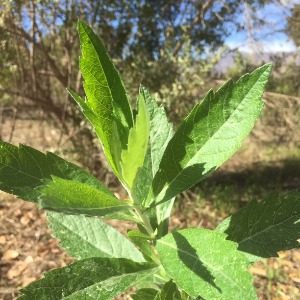 Mugwort
(Artemisia douglasiana)
Native Americans used this plant for treating minor injuries and even used it to enhance the vividness of their dreams. Their flowers and seeds are tiny. This plant is commonly found within every California county.
Brittlebrush
(Encelia farinosa)
The leaves of the plant are a somewhat dull gray but its flowers bloom in a vivid yellow color. Its smell comes from the sap it produces. The gray leaves help the plant stay cool.
Sagebrush
(Artemisia californica)
This plant is extremely drought tolerant, being able to thrive throughout summers with little to no water, making it a tough plant that is easy to grow. It is one of the most common plants in the coastal sage brush community.
Goldenbush
(Isocoma menziesii)
Up and down the coast of California is where Goldenbush loves to grow, laying their roots down in sandy soils. The plant blossoms yellow flowers which covers the shrub in a golden glow. This plant is in the Sunflower Family (Asteraceae).
Deerweed
(Acmispon glaber)
Deerweed is considered an important pollinator plant and it attracts a variety of butterflies with its bold yellow and fiery red petaled flowers. It tends to grow in drier regions of the state, including the coastal region and the Central Valley.
Milkweed
(Asclepias fascicularis)
This plant is known for being a common host plant to Monarch butterflies. The caterpillars thrive off of eating the plant but in turn makes the caterpillars toxic. It regrows by dropping its fruit containing seeds.
Black Sage
(Salvia mellifera)
This plant can easily grow to 3 feet in height and can mature to 6 feet. Its smooth dark green leaves match with its pale colored flowers. Like other sages, Black Sage leaves have a pleasing scent, attracting humans and animals alike.
Buckwheat
(Eriogonum fasciculatum)
Also known as California Buckwheat, it grows in a shrub and produces tiny flowers. Wildlife is attracted to the nectar it produces. Its flowers are usually pink or white color but turns into a rusty red when the soil around it dries.
Purple Sage
(Salvia leucophylla)
Purple and Black Sage both have common traits but their bigger differences are in their coloration. Purple Sage has green-gray leaves and their flowers are shades of purple. It carries the popular signature sage scent.
Black Mustard
(Brassica nigra)
A fairly common invasive species found throughout California. This plant is native to North Africa. It is quick to reproduce making it hard to contain. Its seeds are used to make mustard.